I have two private client openings remaining for the rest of 2020/early 2021. If COVID has broken you open and you want to use this pandemic as a catalyst for much needed health and life change, my 1:1 Truce with Food Bespoke experience might be the right fit and timing.
I'm not a believer in "everything happens for a reason" but I do believe we can make a reason from the wildness that is whatever 2020 (and the foreseeable future) is. It can be a season of growth and much needed change with the right support.
You can set up a 1:1 discovery session or get started immediately with Truth Serum.
Nutrition Perfection Non-Existence: In a hyper-polarized media world (health included) quiet researchers continue to make the case for moderation. There's no need to be an absolute vegan or vegetarian for heart health. Plant-based diets that include limited meat and dairy still lowered blood pressure and healthy eating patterns that combine foods in a variety of flexible ways are associated with a lower heart disease risk (versus focusing on specific nutrients). And for those who love a good Friday night dinner out (or in these days), the body can maintain metabolic control (i.e. not extreme cravings later/elevated glucose) after one-off indulgences like pizza. However, don't consistently make these indulgences because even if you are eating a "plant-based, sometimes meat and dairy diet", consistent junk food (which is often vegan!) will still negate any plant-based diet benefits.
Factory Farming, Coronavirus and Immunity, Oh MY: While the media, government and many citizens are focused on a coronavirus vaccine as a holy grail to return to normal, history shows us the greatest impact on population health has been from policies that improve overall standards of living and empower populations to take control of their lives, not vaccines or drugs. Given food and environmental toxins affect on our individual immunity (i.e roundup used in industrial agriculture production) and industrial livestock agriculture is a root cause of global pandemics as it causes loss of biodiversity, the elegant root cause resolution would be a public-policy shift towards regenerative farming, which reverses climate change, replenishes soil and promotes biodiversity versus a Farm Bill that subsidizes the feed to industrial animal production and our own disease and poor immunity (and aids Corporations more than farmers).
To Intermittent Fast or Not: While intermittent fasting has never been studied on women during their reproductive years, it is evangelized by tech and wellness bros as a productivity hack. Yet when restricting food like this is done by women, it's called dieting or disordered eating. Is fasting disordered eating or optimizing the body? Who really benefits? And what are the benefits? This is a great read on these questions.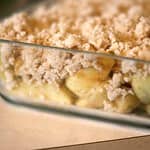 We joined 412 Food Rescue's Ugly CSA and the "misfit" apples are a plenty (I have a soft spot for all outsiders!). I made this Elana's Pantry apple crisp for a healthy sweet dessert. I'd recommend using the honey over agave and I used butter instead of her oil choices because that's what was in the house. You could also swap out peaches if you have those since it's peach season.
How to Stop "I Deserve This Eating" with Ali
Since childhood, sugar has been used to reward us. Whether it was for being good for Dad or Grandma, reading books for Pizza Hut's mini "Book It" pizzas or treating ourselves for losing weight, the "I deserve this" eating pattern is reinforced constantly.
In this episode, we will explore the root cause of this emotional eating pattern and how to overcome it.
We will discuss:
The root cause stories that created this pattern in our culture, families and weight loss and healing approaches
The importance of "self-authoring" a new story (and what self-authoring is) so you can change these three reactions to stress
How to prevent "busy boredom" and the need to unwind at the end of the day with sugar

Be well,
Don't miss Well-Rounded, get it delivered directly to your inbox