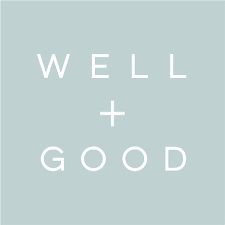 Well + Good recently asked me about responding to food shaming, especially if you are recovering from diet culture.
Sometimes, what is perceived as food shaming can actually be a teaching moment to share where you are in your own journey and to ultimately deepen your relationships.
See when and why I think it's important not to follow traditional advice to just change the conversation.
If It's Capitalism, It Counts? The assembly line that is Capitalism has been attempting to turn the art of healing into wellness widgets that can be mass produced with strong unit profitability. Commercial mindfulness puts the burden of stressors caused by capitalistic forces on the individual and dismisses the reality that our health and fates are very much collective and connected to our communities and fellow human beings. With this, it's easy to forget that "integrative" medicine is supposed to integrate into our lives and that it's not one more app, gadget or pre-packaged organic meal service that inevitably involves pressing the "buy" button.
The best and most powerful integrative medicine is regularly dismissed because it is free: getting early morning sunlight improves blood sugar and sleep while growing a garden and time in nature is a side-effect free mental health and creativity booster. These free, easily accessible, and abundant remedies support consistency, further strengthening already powerful healing tools.
New Exercise Movement?: Being active is important for health but making "exercise" a thing like busting our butts at Cross Fit can backfire. Researchers have found more evidence that it's eating too much, not being a couch potato, that leads to weight gain (despite companies like Coca-Cola funding entire research platforms to make "exercise" the solution to our processed foods problem). And light (versus moderate-to-vigorous) physical activity shows the strongest protective effects against overeating. Replacing the concept of exercise with movement opens up a lot more choices (many that are free!) and is an important narrative to shift. This is particularly important for people who struggle with eating disorders and are more likely to have exercise addiction and hold beliefs that exercise only counts if it's tied to a large, hard, caloric burn.
Goop, There It Is. While endless debate about Gwyneth Paltrow's company GOOP has become a modern pop culture pastime (and isn't this part of its success?), this Who's Afraid of Gwyneth Paltrow and GOOP NY Times piece asks us to take a closer look at what we mean by "science". As this article highlights, "As 19th-century medicine men were organizing and legitimizing their brand-new profession, they claimed the mantle of "science" even though there was no such thing as evidence-based medicine at the time. In order to dominate the market, they belittled and dismissed all other modalities as "quackery," including midwifery, which achieved safer birth outcomes back then, as it still does today.
Remember, absolute proof happens in math equations and evidence builds but rarely "proves" in science. And there is mounting evidence of how Capitalism has leveraged a patriarchal culture to define science, both at GOOP and Western medicine.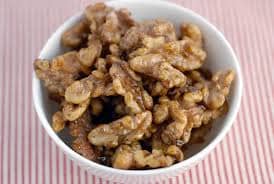 February always seems like some sort of winter stamina test to me. In February in Pittsburgh, an overcast city to begin with, it feels like the sun will never shine again. I question why I live here and my life in general. For a winter fat boost that supports brain health and mood, I love these vanilla roasted walnuts as a sweet, blood sugar balancing snack for this time of year.
My swaps? Maple syrup instead of agave, butter or ghee instead of olive oil and vanilla instead of vanilla beans. I've found my All-Clad pan works just as well as a large cast-iron pan (or maybe I don't know what I'm missing). These changes make this easy recipe even easier and work with existing ingredients I always have on hand!
Feel In Control, Not Controlled by Food
"I'm scrolling through my Instagram feed and I see that Intuitive Eating (IE) meme about "Should I eat the cookie?", where there's a straight line to "yes", eat cookie and move on. And I get overwhelmed trying to weigh those voices with the fact that I often truly do feel crappy after eating certain foods. I get that the IE people aren't trying to make me eat "bad foods" – they are trying to help me not have emotionally loaded foods. But it's hard to know if it's the shame of eating or if it's truly not feeling good in my body, you know?"
This question from a client echoes the sentiments I have heard frequently from others as the IE movement has gained steam. Many of us want to want to make the healthy choice and also don't want to feel deprived. How do we sink below this seemingly conflicting choice of eating the cookie and feeling crappy or not eating the cookie, feeling deprived and setting ourselves up for overeating or a binge? Tune in to understand how I take IE a couple of steps further and support clients to navigate the above-perceived dilemma with the concept of being "in choice" versus in control.
Read the transcript

Truce with Food 2020 registration ends this coming Monday, February 24.
I now have the agency to create a fulfilling, relaxed, fun, and creative life for myself
Truce with Food felt like my last hope, having tried all the popular diets on the market. Now, rather than feeling like the end of the line, it feels like the beginning of my life. The emotional healing we did paired with nutrition work was the perfect approach and Ali and the caliber of clients she attracts are an incredible support network. The hardest and most enlightening part was facing some deep-rooted emotions and realizing I'd been holding myself back through a narrative of my own creation. I now have the agency to create a fulfilling, relaxed, fun, and creative life for myself. A healthier relationship with food and exercise is a pleasant bi-product of that. I am so glad I took the leap. — S.T.
Be well,
Don't miss Well-Rounded, get it delivered directly to your inbox