(deep exhale).
This time of year is my personal new year. I was born on the eve of Rosh Hashana, not too long after the Camp David Accords were signed—hence my Arabic name (which is also a nod to my dad's idol Muhammad Ali; it is NOT short for Allison as I had to explain when giving my "full" name all too often when growing up).
It's always made sense to me that the Jewish time of reflection, atonement and the New Year are in the Fall. The significance of this season has continued for me throughout my life, My "business birthday" is October 15 and Eça's first birthday is October 28.
Coming out of this "OMG, I have a baby" transition, I feel more myself in some ways. My confidence in our non-traditional nutrition and medical choices for Eça are pretty easy. I don't do a lot of second guessing in how we take care of him.
What has surprised me is the body transition post-birth. While replenishing from pregnancy and birth, I've been managing insomnia, plantar fasciitis and not being able to do previous easy-for-me yoga moves that now result in my entire pelvic floor saying, "I don't think so. Not yet."
I used to think I was out of shape when I never really was. And now I truly am as I learn how to put my abdominal wall back together.
It's only been around 10 months post-birth that I've had the space to focus on my own health. And I've only been able to do that thanks to having the resources, in part from my privilege, to afford a Nanny.
The most important lessons of my life have been learned through my body and I don't see that changing as I focus on this next stage of my body's shape and health.
Our bodies are a symbol of vulnerability. And, the story doesn't have to end there. If we approach our vulnerabilities as symptoms not deficiencies, we can transform our very personal vulnerabilities into our greatest strengths and wisdom that will forever change the trajectory of our lives.
I hope that during this fall time of transition and reflection we take the COVID pandemic up on the invitation to individually and collectively radically transform our societies, from holding the Corporations, who are the biggest air polluters accountable to seriously addressing racism (we call your zipcode affecting your health more than anything "social determinants" but it's really racism) to realizing we cannot conquer nature. The body is the medium to this invitation. How will you RSVP?
Chrono Weight Loss: Chronobiology – the study of the body's natural cycles – is increasingly being applied to weight loss. Researchers are finding that eating a big dinner late at night causes weight gain while eating a bigger breakfast produces a metabolic effect that prevents obesity and cravings while eating a low-calorie breakfast actually increased appetite, particularly for sweets. When it comes to fasting timing for weight loss, the amount of restriction time isn't as important as originally thought. As for lifestyle syncing, teaming up with a spouse/partner can lead to healthier habits. But make sure you both are eating the right diet for your body as exercising with high blood-sugar levels reduces the aerobic benefits on your body.
Matriarchy: A True Wellness Culture: Our industrial food supply, with its lack of healthy fats, might be creating children to have more sensitive neurological reward systems, resulting in a higher drive for high-caloric diets. It is important for pregnant women to eat lots of healthy fats to counter this imbalance as exercise and healthy diet changes during pregnancy impact a babies cardiovascular health foundation. And for low-income and under-resourced Moms who wish to be healthier, but who have greater challenges to a healthy diet due to lack of time and resources, they learn best from others who have navigated these challenges with the same stress, making community invaluable medicine. On a personal and policy level, the solution isn't to judge, blame and put more on Moms. It's to become a live-giving culture that centers Mothers (and all who Mother in schools, hospitals, etc.) by providing the village support they need to thrive.
Banquet of Whiteness: In my health recovery and anti-racism work, I've had to challenge what the mainstream media often refers to as "science". Science isn't a monothestic religion. And the same for-profit corruption that exists in our "justice" and financial systems exist in health-care.
This Charles Eisenstein essay on "ontological imperialism" of white culture, felt like going to my version of church. Eisenstein dissects the white science culture that "tells everyone else what is so and either excludes other systems of knowledge, writes them off as superstition, tolerates them as anthropological subjects, assigns them a second-class metaphoric truth, or fetishizes them in the subtly patronizing category of "indigenous wisdom."
For those of us who have found healing in more holistic systems like Traditional Chinese Medicine, herbalism and that healing has us opened us up to question "the banquet of whiteness" or success as defined as the gluttony of American culture and consumerism, this essay is medicine.
3 Ingredient, Sugar Free Chocolate Chip and Peanut Butter Cookies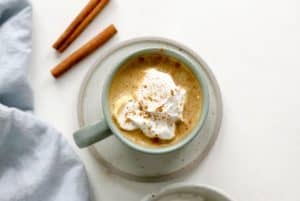 Born on October 1, I was nicknamed "The Pumpkin Girl". So it was fate that I'd love a good pumpkin recipe, right?
I'm also pretty sensitive to sugar. This is why I wanted to make sure you don't have to choose between sugar-laden pumpkin spice lattes (PSL) or deprivation. From keto to caffeine free, I've rounded up six ways to enjoy a little bit of sweet, pumpkin and spice so you can find exactly what suits you.
How to Exercise to Prevent Sugar Cravings with Alisa Vitti

We have so many beliefs about working out: mainly that we should do the same thing and always be "crushing it". But this approach to working out doesn't honor the ebb and flow of women's bodies. This often leads to sugar cravings from exhaustion and wanting to reward ourselves for slogging to the gym when a nap would have gotten us better results!
To help educate, inspire and fill in some major missing holes with our female biology, Alisa Vitti joins us to discuss:
How society is set up on a man's hormonal clock and why we need to change to honor our female, infradian clock (and why no one is talking about this)
What the infradian clock is and how it's a root cause of health, immune and weight issues
How to work-out so we honor our bodies needs and don't turn to sugar from exhaustion or stalled results

When our metabolism is slower and faster and how to eat and work-out to align to ensure a healthy metabolism, including what weeks to add 250 calories to your diet!

Be well,
Don't miss Well-Rounded, get it delivered directly to your inbox