When I surveyed my Instagram community, 95% said they felt election anxiety. In lieu of Well-Rounded today, as the election results trickle in and most are projecting an election purgatory long after election night, here's how I'm managing my election anxiety.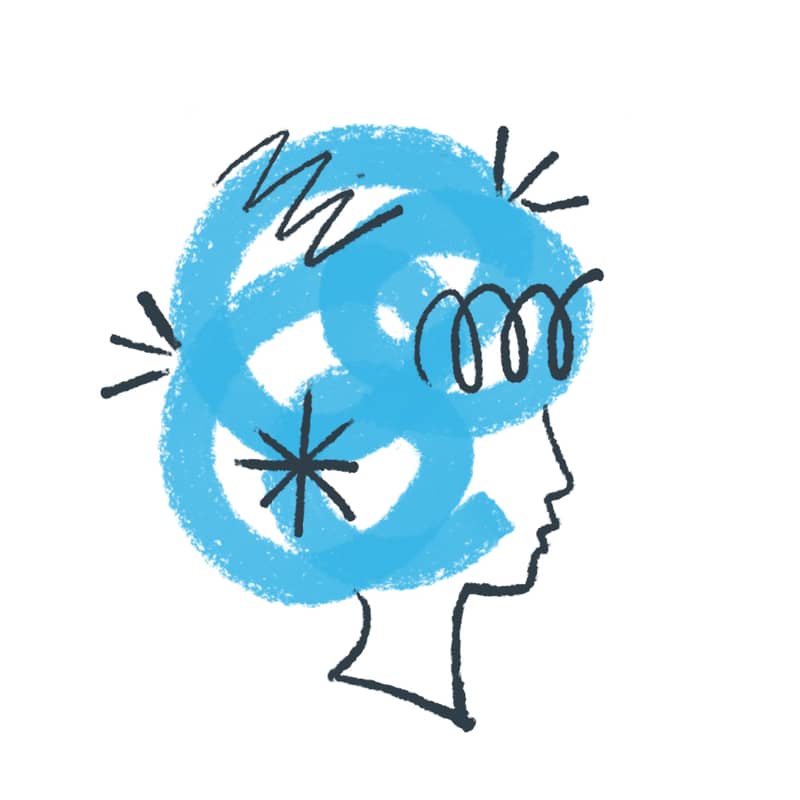 Baby's experience eight developmental leaps in the first two years of their life. During these leaps, "stormy" times arise where they can be irritable and have sleep disturbances. It's as if they experience a Trump presidency during each leap!
As I gave Carlos the heads up that Eça is in a stormy period and might have some BIG FEELINGS this week, Carlos replied, "I have big feelings too." And I realized that we all do, especially now.
The last election triggered me. It created a three-year stormy period of anxiety, anger and heartbreak, including when my neighborhood experienced the deadliest anti-Semitic attack on U.S soil in the Tree of Life synagogue shooting. Since then, I've used my own tools from the Truce with Food process to understand my own U.S. and election story, keep my anxiety manageable, and to continue to take the best care of my body. This has allowed me to increase my capacity for my feelings and effective action—and to turn the trauma of a Trump presidency into an adult developmental leap.
And doing this is the ultimate form of resistance. The psychological phenomenon of citizens checking out of politics when it's too confusing, disheartening, and disenfranchising is being used as a targeted voter suppression technique in this election. Fortunately, the current unprecedented voter turnout and activism is proof that so many of you are not giving into this and are using these challenges for growth and activism.
Below I'm sharing tips for how to use your election anxiety for your own adult development leap and to best take care of your physical and mental health as well as that of our democracy.
Be well,
P.S. I recently did an Instagram Live on "Ask Me Anything". You can watch it here. I'll be doing these every Thursday at 3 p.m. EST and this week we can certainly discuss election anxiety.
Understand and Feel Your Big Feelings: This election is bringing up BIG FEELINGS for most of us. Yet unlike babies whose stormy periods indicate progress, adult development leaps aren't the norm for our stormy periods. Instead they often further feed into our stories which turn our feelings into BIG FEELINGS that overwhelm our system and can force us into Chuck It, and F@#$ it mode.
This mode is where we check out and retreat to our comforting, but often destructive habits which can be bingeing on food, alcohol, or screen time. This is a known pattern leveraged as a form of voter suppression known as voter depression. The goal is to make politics look ugly, confusing, and to make citizens believe their vote and voice won't count so that they check out and give up on voting.
Re-Examine Your Democracy v. Fascism Story: The "story" right now causing national anxiety is that this election determines if we further descend into facism or remain a democracy. Like many stories, there is truth and evidence behind this —and why so many respected military generals, government officials, and Republicans have broken ranks with their party and are sounding alarm bells.
Still, the reality is our democracy never truly was and there is much work to be done on all levels of government. This country and the laws the culture created were designed to protect white, land owning Christian men (who didn't want to pay their taxes). And surprise, that's still mostly who it protects today. Disparities and oppression have been building on the continuum for years, which is why we have powerful grassroots movements around Black Lives Matter, Moms Demand Action and #metoo.
The Messy Middle: Our stories make us see life in binary thinking: black or white, all or nothing, facism or democracy. They blind us to the truth in the messy middle continuum and so we stay stuck, repeating the same patterns. The reality is we are in a Corporate oligarchy, somewhere on the continuum between these two states. It's like Eça's leap learning that his feet exist even if he can't see them. The truth, like Peek-A-Boo, is wild. For me, I no longer see America the way I was originally indoctrinated. I'm more clear that our current system at best, can do harm reduction and strong governmental policies and protections are crucial to harm reduction. And, policies shape future social norms. For example, Eça will grow up seeing marriages of all types as "normal" and many people not marrying at all, not the Christian idea of success = man and woman marriage. This is why and how I vote, for harm reduction.
Remember —a Trump Win (Steal) Won't Break Us, a Biden Win Doesn't "Fix" Us: Will it be easier with Biden in office? Yes. A Biden election is critical for retaining voting rights for all (including many of us not used to being disenfranchised). We will all be more safe when white nationalists— the greatest terrorist threat according to the FBI— won't feel emboldened to shoot up synagogues, gyms, or kidnap elected officials. And when our own government isn't completely disregarding science and releasing known environmental toxins into our environment.
Still, if Biden wins, all is not magically "fixed" and there is still a massive amount of work to be done to ensure the slide into totalitarianism that the Trump presidency was on the edge of completing doesn't happen again, to consider the root causes that brought us here, and to continue the slow, hard work of expanding equality and equity for all. One gift of Trump is that he woke many of us up. Hope can blind us to reality, as Barack Obama's wins did to me. A Trump re-election might get even more people engaged in social change. Rather than activism waning as many expected, hoped or feared after the 2016 election ("they can't keep this up" many opined), it's only accelerated into organizing and practical resistance.
Use Your Agency and Autonomy Beyond Election Night, Regardless of the Results: I'm now clear on how radical change and justice has always come from the ground up and it seems many other groups have also unexpectedly shifted their thinking about grassroots activism. I, like many of you, now realize that I have choices and a responsibility to leverage my privilege to work to change government and other structures. No one gave the enslaved freedom. The enslaved organized and took their freedom. No one gave women the right to vote. Women organized and demanded it.
The anxiety-reducing news is regardless of who wins this election, our power in organizing and contributing to a more just world is only accelerating. The work and values most of us care about will be going on long after we die. We are changing our story and supporting leaders who are committed to changing narratives (I highly suggest following women of color leaders as they've been at this for centuries). While it can be frustrating that change takes time, the upside of that is that no one outcome or election is the final say on anything. There is much more room for resilience and transformation than we are conditioned to believe.
And finally in a few more tips to help get you through this stormy election period, check out my short, practical Truce with Food Guide to Surviving Election Anxiety.